Goodwood Festival of Speed
Goodwood Festival of Speed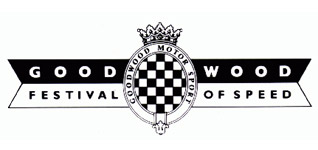 The Goodwood Festival of Speed is firmly established as the world's biggest celebration of the history of motor sport. Nowhere else in the world will you experience such an intoxicating blend of speed and drama, from the gnashing of a pioneering chain-drive road racer to the spine-tingling shriek of the latest Formula 1 technology.
The Festival of Speed is far more than just a hillclimb: it can justifiably claim to be the world's biggest and most diverse celebration of the history of motor sport. It is the only occasion where you will see in action the greatest competition cars and star drivers from all eras: everything from 19th century steam carriages to current Formula One; fabulous racing motorcycles; classic rally cars to 3000bhp dragsters; plus some of today's hottest properties such as Jenson Button and Lewis Hamilton.
Motor racing first came to Goodwood in 1936 when the 9th Duke of Richmond held a private hillclimb through the park. Five years earlier he had won the Brooklands Double 12, and then in 1948 he opened the Goodwood Motor Circuit. These early events inspired his grandson, the present Earl of March, to bring motor sport back to Goodwood. This resulted in the first Festival of Speed, held in 1993 in the picturesque parkland surrounding Goodwood House.
Since the inaugural meeting, the Festival has become established as a key event in the motor sport social calendar. But it is not all about action on the hill. Unrestricted access to the paddocks means that spectators and autograph hunters can get closer to the cars and drivers than at almost any other meeting. Away from the bustle of competition, you can relax with a picnic on the lawns of the House among some of the most beautiful and innovative automotive creations, which are judged in the Cartier 'Style et Luxe' design competition. You can explore the exciting displays of our many exhibitors, or seek an adrenaline rush from the Festival's interactive entertainment, including driving simulators and 4x4 driving. Children will delight in the special amusements to be found at the Junior Festival of Speed.
The Festival is motor racing's equivalent of Ascot or Wimbledon: an extravaganza of sound and colour that has been described as 'the garden party of the Gods'. In combination with the rich period theatre of the Goodwood Revival, the Festival of Speed ensures that Goodwood is unrivalled throughout the world.
Official Goodwood Festival of Speed Website http://www.goodwood.co.uk/fos/