Porsche Alpenpokal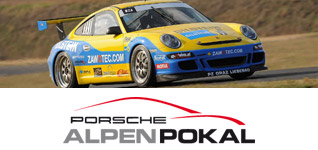 In the beginning of May at the Salzburgring Austria, the unmistakable sound of race-tuned six-cylinder Boxer engines will be bellowing out across the Alps once again for the Porsche Cup Alps (Porsche Alpenpokal).
Now in its 22nd season, the Porsche Alpenpokal is the ideal breeding ground for future superstars and ambitious Porsche enthusiasts alike.
One of the most unique features of the Porsche Alpenpokal is the range of Porsche models all competing for the same title. It's not just the latest race-bred GT3 Cup cars, there's classic Porsche's from the 1960s and 1970s too.
Milltek Sport are proud to be sponsoring the ZaWotec Porsche GT3 Cup car for the 2012 season.
Official Porsche Alpenpokal Website http://www.alpenpokal.com/