GTi International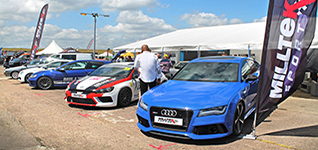 The world's greatest festival for enthusiasts of all high-performance Volkswagen Group models.
British exhaust specialists, Milltek Sport, will be exhibiting at this years' show as usual and are located in Stand A near the Sprint Lane.
Organised by Autometrix, publishers of Volkswagen Driver and Audi Driver magazines, this years' show will build on the success which they achieved at last year's event.
In particular, the new venue offers quarter-mile sprinting at one of Britain's top drag-racing venues, with its superb track surface, world-class timing equipment and outstanding safety for spectators, with grandstand seating for 3,000.
It won't be just about the Sprint, though. All the usual attractions of GTI International will be there, with a substantial Trade area, Show 'n' Shine / Concours and a huge on-site camping area. Nearby Stratford-upon-Avon is one of the country's great tourist destinations and, alongside the Raceway, you'll be able to visit a well-established Sunday market.
Best of all is that our arrangements with the Raceway mean that we are able to reduce all the costs of attending GTI International 2014.
Entry on the day will cost £16 if you book in advance. We've also brought down the cost of camping. For one night, this will be £38 and, for two nights, £44 (these prices include entry to the show).
Sprint prices are also down, with a single Sprint run costing just £5 and a ticket for a half day at £15, a full day £25 or a full weekend for just £40.
All of these measures are designed to make GTI International less expensive, safer and even more enjoyable than ever before!
You will be able to find out more about GTI International 2014 at gtiinternational.co.uk or you can contact us on 01525 750 500, or e-mail them at gti@autometrix.co.uk
Official GTi International Website http://www.gtiinternational.co.uk/