British Cross Country Championship (BCCC)
British Cross Country Championship (BCCC)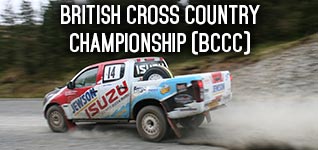 The BCCC is the British Cross Country Championship. Despite the name it is not about people running around muddy fields wearing athletics gear, it is actually an off-road racing championship! It is the premier off-road racing championship in the UK and it is officially sanctioned by the MSA.
BCCC events are comp safaris. So what are those? Well, they are events where off-road vehicles, modified for competition use, are timed around a set course. For BCCC rounds competitors typically do 10-14 runs of a 6-8 mile course. The courses used in the BCCC are usually based on forestry land and generally consist of gravel forest roads interspersed with technical off-road sections. None of the BCCC events use public roads.
Each event lasts two days and there will be a set number of runs to do each day. Unlike rallying the crews do not have to do each run at a set time - each crew will have a time by which they must have started their last run of the day. This means that if your car breaks you can spend a few hours fixing it and stay in the competition as long as you get your runs in by the final time.
The cars used in the BCCC range from pretty much standard vehicles such as Freelanders through to highly-modified "prototypes" such as GSRs and Milners. As the BCCC events do not use public roads it is not necessary for the cars to be road legal.
There are several classes in the BCCC based on the car type, specification and engine size.
The BCCC Jewson Isuzu D-Max is fitted with a complete Milltek Sport turbo-back performance exhaust system to give it more power and torque, a quicker turbo spool-up and exceptional reliability throughout each race. The same exhaust systems are available to purchase for your own D-Max by contacting your nearest Milltek Sport stockist.
Official British Cross Country Championship (BCCC) Website http://britishcrosscountrychampionship.blogspot.co.uk/