Ford Fair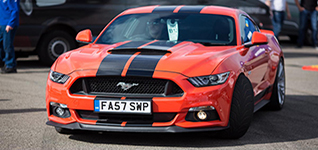 Ford Fair gets bigger and better every year and they're promising this year will be no exception. Last year saw over 15,500 loyal enthusiasts through the gates, contributing to an unforgettable show.
The beating heart of Ford Fair is its fantastic display of cars, from a massive variety of clubs hailing from all over Europe, helping the show grow in to the most exciting Ford event ever! Expect an amazing line up of every model imaginable, from classic Fords to the fastest blue ovals in the UK.
Check out the country's fastest Fords on track and on display. They'll be testing their speed on the 0-60 strip and the track at dedicated times throughout the day, and will be on show in a special display area.
Official Ford Fair Website http://www.fordfair.co.uk/